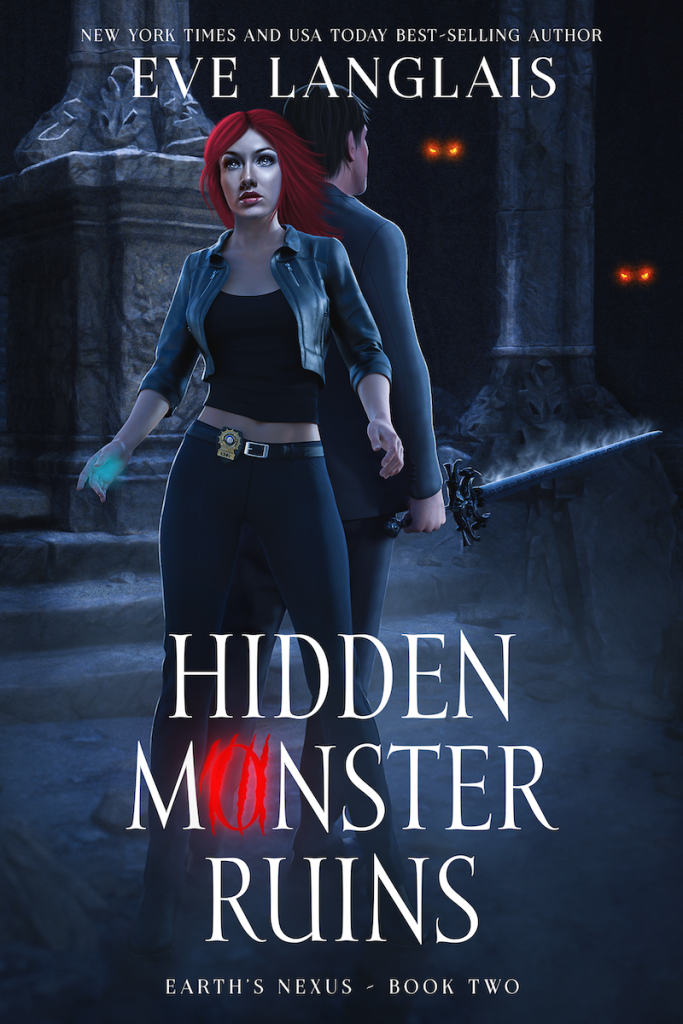 Hide all you want. I will find you.
I might not wear a cape or a mask, but as an agent for the SMU—Special Monsters Unit—I am plenty heroic.
Most of the time.
Accidents tend to happen a lot around me since I'm what they call a null witch. Someone who basically murders magic.
Sounds cool, right? Not when it causes cursed folks to explode—literally—in my face. Gross. Not to mention I hate shopping for new clothes.
Still, I love my job even if it is dangerous. Other parts of my life could use some help, though.
My parentage is still a mystery.
The guy I liked, well, let's just say things got complicated.
The boss hired someone new and annoying, and did I mention hot?
Oh, and there appears to be ancient ruins under our town. I'd be more excited if the Cryptid Historical Society hadn't shut us out of our own investigation.
Whatever. There are plenty of monsters to go around in Nexus. Secrets too. Time for me to cause trouble in the name of good.
Published:
2023-03-21
Cover Artists:
Genres:
Excerpt:
MAY CONTAIN SPOILERS - only read if you've read book one.
Prologue
I am not alone.
READ MORE
The certainty hit me as I lay in bed—a thin mattress of foam on the floor inside the closet. My fingers clutched my blanket tight to the chin. My knees were tucked, but still my toes peeked. The room didn't have the chill of our last house when the winter winds blew through every single crack in that shack off the snow-covered corn fields. It proved quieter than the attic we lived in for a few months with its terrifying moans. The business under us offered massages twenty-four hours a day and needed better sound proofing since we could hear people cry out randomly through the night.
Our current apartment might be old, but it wasn't a rathole like some other places we'd lived in. On the third floor, the one bedroom came freshly painted and with a closet big enough to fit me. Look at me with my own space and a door!
Sarcasm didn't change my reality. Even at the tender age of nine, I understood this treatment wasn't normal. I just didn't know what to do about it.
At the same time, I had a roof over my head, actual food in the cupboard—a rarity—and a tiny space of my own—a first! The walk-in closet proved a huge surprise in the apartment. An old house converted into several units had resulted in an eclectic space.
Old didn't mean haunted.
I lay there huffing, trying to convince myself of that. A putrid stench rose and had me tucking my mouth inside my shirt. Why did it smell so bad all of a sudden?
Maybe there was a bathroom right below us and someone had a poop. I should open the door to the closet, get rid of the stench.
Creak.
I'd have sworn someone stepped on the floor right beside my head.
I held my breath, listening. Wishing I had a light.
Scratch.
Again that sounded close, as if it was inside the closet with me. Mostly likely mice. We'd had them before.
But what if it was the bogeyman? I'd read about him in the library, my favorite place in the world because I could sit quietly in a corner reading about more interesting places and escape my life.
Scritch.
My eyes stared unseeing at the dark in front of my face.
A stuttering wheeze froze me completely.
Only for a second. Then I popped up, flailing for the knob on the closet door. As it turned, something touched my ankle. I fled with a shriek, racing to the bed, wanting my mother.
Foolish of me. She didn't appreciate me waking her.
"What do you want, wicked child?" she exclaimed as she rose to a sitting position, her thick blanket pooling in her lap. It looked so nice and warm. I could only hope one day I could have one as large as hers and a room of my own with a window.
"There's a monster in the closet," I exclaimed, pointing.
"The only monster I see dared to wake me." She pursed her lips in disapproval. I tried so hard to not be wicked, but according to my mother, I was born that way.
I ducked my head. "The bogeyman is in the closet."
She snorted. "There you go lying. The bogeyman wouldn't be interested in someone like you. He likes to eat good little boys and girls, not the Devil's spawn."
"I am good," I hotly insisted.
"And yet every word out of your mouth is a lie. There is no bogeyman in the closet. You just want attention. Get back in there and don't you come out until you hear me moving around. Got it?" No hug, no gentle reassurance like the mommies did in the books and movies.
"Yes, Mother."
"Don't you sass me, or I'll get the spoon."
My bum clenched in reminder of the last time I'd gotten it.
"I'm going." My shoulders drooped as I trudged back to the closet by the kitchen. My feet dragged, my head bowed, my fists clenched. My stomach remained tight with fear, yet what else could I do? I didn't want the spoon.
But if I went back in the closet, I might die.
Might. Mother seemed to think I was too wicked for the bogeyman. Guess we'd soon find out if she was right.
I slipped into the dark closet, listening for the huff of its breath. Sniffing for the stench of its presence. The closet felt normal. Maybe I'd imagined it.
I dove back onto my mattress and tucked the blanket around my toes, leaving my shoulders bare. I closed my eyes and did my best to breathe in and out, slow and steady.
The wheezing returned, as did the smell.
I barely slept that night.
Or the next.
Nothing happened, and yet I couldn't sleep at home, but I did in class, which led to the teacher sending me to guidance to chat. Mrs. Burnette asked me why I wasn't sleeping well. I knew better than to complain, but she seemed so kind. I told her about the monster in the closet keeping me awake.
"Why are you sleeping in the closet?" she asked.
"Because that's where my bed is."
Which led to more questions and, finally, Mrs. Burnette told me to stay in her office while she made a few calls.
My mother showed up, her face with that look I knew so well. Looking so nice on the outside but boiling inside. She'd wait until we were alone to explode.
The guidance counselor told me to stay off the internet and try reading instead of screen time. My mother promised to not let me have sugar after seven. As if we had that kind of sweet luxury.
She said nothing as we walked out. Nothing as we marched the several blocks to our apartment.
We got to our home. She locked the door before turning to look at me and hissed, "Making me sound like a bad mother. Such a wicked thing to do. Go to your room."
"It's a closet," I hotly retorted.
Wrong answer.
Many tears later, and my bum tender, I lay on my belly in the closet, snotting into my pillow, which I'd made myself out of my clothes. I didn't want to be in here, but she gave me no choice. At least it remained light out, meaning the sliver of space under the door gave me some illumination. Enough to discern the closed space. I checked the walls for a secret door. The floor for a hatch. A glance overhead didn't show anything but a single bulb light, burnt out.
Nowhere for anyone or anything to enter.
I had no under-the-bed space, which was very popular with the bogeyman and monsters.
Maybe it was my imagination. Our teacher said it could be a powerful thing.
My dinner arrived in the form of an opened can of pasta with a spoon stuck in it.
"I'm sorry," I stated as Mother thrust it at me.
"Don't come out until morning and then go straight to school."
The door slammed shut, leaving me alone in darkness once more. But at least I had something to fill my belly, and then I'd fill the can since I had to go so badly.
I tucked the full can in the farthest corner from me and lay down in my bed. If I had a light, I could have read the book I borrowed from the library. It told of a girl who suddenly discovered incredible powers and went on a quest. Wished I could be that girl.
Maybe I could scrounge some coins, enough for a flashlight at the dollar store.
The stench came first. Probably someone pooping same time every night. I like to poop before school.
Wheeze.
The noise sounded like someone breathing, but I was alone. I'd seen it. Explored this closet. It had to be something like a furnace. We had a basement apartment once with one that constantly clanged and clamored.
Must be the pipes.
Ping.
The noise made me think of a can tipping. Not the one I'd peed in. It couldn't have. Heavy cans didn't fall over.
My foot got wet.
My stomach a tight knot, I scrambled to a sitting position. Something had knocked over the can. I wasn't alone.
I didn't care if my mother would punish me. Let her. I had to—
"Ack!" The fingers that grabbed me by the throat squeezed tight enough to steal my voice.
I scratched at the scaly hand, trying to free myself. It held tight and hissed, "My closet."
Since I couldn't reply, I kicked, missed the bogeyman, but somehow thumped a foot off the door.
As the monster lifted me higher with a shake, the door opened, and my mother stood framed. "Are you doing this on purpose to wake me?" A second later her eyes widened as the bogeyman flung me in her direction.
Rather than catch me, she shoved me midair so I landed on the floor. My mother grabbed a candle from a dresser and waved it, yelling, "Begone creature of darkness."
Her bravery awed me. Especially since she protected me. A first.
Her candle didn't withstand the bogeyman's slap. He advanced on her. My mother retreated, hand fisted to her chest, lips moving in prayer.
I ran to her aid, fists raised to pummel.
The bogeyman didn't turn from my mother as he reached for her. Her eyes widened in fear. My stomach hurt something fierce in fear. Still, despite it, I flung myself at that arm, and the moment I connected, I wrapped myself tight.
He shook me, but I hung on. I couldn't let the bogeyman go, or he'd just go around spreading his evil magic. To think I'd let him make me afraid.
I wasn't scared now.
He was.
The bogeyman began to whimper. "What are you doing?"
I didn't know what he meant. Although that tightness in my belly was easing. And the more I felt better, the more he got agitated.
He began to smoke. Literally. Parts of him fogged away until there was nothing left. Nothing but me and my mother.
"I did it," I exclaimed, turning bright eyes on her. "I killed it. I killed the bogeyman." Surely now I'd see acceptance and love in my mother's eyes.
Instead she snapped, "Get to bed." And pointed to the closet.
Before I went, I cleaned up the pee and took a lightbulb from the trio in the bathroom.
Mother never mentioned what I'd done. But I remembered and was never scared of the bogeyman again.
Chapter One
"Get back here and let me hug you!" I yelled to the fleeing bogeyman. His long-legged stride forced me to sprint. Sweat might make some women glisten. Me? I stank and looked like I was having a heart attack.
People on the sidewalk screamed as the monster raced past with me hot on his heels. I'd come a long way from cowering in fear from the monster in my closet. Now I chased them.
"Does he have great big fangs?" asked Kyana—the new tech girl—in my earpiece.
"You sound like Monty Python," I huffed.
"Why thank you, Ruby" she quipped.
That was me, Ruby Garcia, special agent who wasn't paid enough to chase monsters. At least I loved my job.
"The bogey is turning into the alley between that place that sells the Cowabunga Kitchen Sink burger and the store that sells crystals," I huffed, pounding the pavement harder than I liked. Used to be monsters let me stroll right up to them, goading me on, thinking I was weak. But then word got around that I wasn't someone to fuck with. Never thought I'd ever be thought of as badass.
The alley proved to be narrow enough I could have trailed fingers on both sides with my arms only partially extended. The bogeyman clung to the shadows within. As if he could hide from me. Most of his tricks didn't work.
Shadow concealment, voice projection, intense fear. All spells. All useless. The only thing I couldn't avoid? The smell. Bogeymen didn't believe in bathing.
Scree. A squeal of tires had me glancing over my shoulder to see a Jeep parked with a front wheel on the sidewalk. In a moment, Nelly—my best friend and sassy coworker at SMU, Special Monster Unit—would be hobbling to join me as backup. She'd sprained her ankle last week chasing a horny satyr. She'd slipped on a puddle of jizz he'd shot in our direction. Needless to say, it left her in a bad mood since she had to throw out her adorable ankle boots when the emergency folks cut the one off her swelling foot.
She refused to take time off or stay in the Jeep, despite the fact I didn't need help dealing with the bogeyman. One hug from me and, poof, he'd be back to whatever nightmare place created him. Bogeyman were creatures of magic created out of fear. It had nothing to do with good or bad at all.
I ran for the back end of the alley, watching for the shift of shadows to let me know where the bogey went. A hint of moving darkness disappeared around the corner in a crisscrossing alley that finished in a dead end and a pool of light.
The bogeyman shrank in its bright glare as I advanced, losing its size, as it found no fear to feed it. Thin gray arms crossed over its face.
"Where is your lair?" I barked, right away getting to the meat of the matter. We had a monster problem in Nexus. They kept cropping up all over, and yet no one could figure out where they lived when not causing trouble.
The bogeyman showed its teeth but didn't speak. Too weak to form a coherent thought.
I strode toward the monster, peeling off my glove, frowning, given the bogey didn't even flinch. It knew I was about to send it away, and it didn't seem worried. Didn't try to escape. Or even fight.
My lips pursed, but I didn't stop moving. Nelly would be limping into sight any second. Two of us should be able to handle it. Had to because we didn't have any other muscle. Baptiste was off with Clive. Kyana kept us organized within her machine web. We needed more bodies.
Renarde, the boss, kept saying she'd get us some more team members. We were still waiting. In her defense, we were a weird crew to work with.
You had me, a null witch, with the ability to cancel magic. Nelly, who could make anything a weapon and pretty much never missed when she aimed. Clive, a wizard with so much extra magic he wasted it on dumb stuff like an actual animated broom, mop, and bucket. He also had a feather duster that did amazing on ceiling fans. So long as I didn't stick around and suck out all the magic. In exchange for magical free cleaning, I spent a few minutes with Clive every few days, where we sat lotus-legged, knees touching, hands atop each other. A Zen moment to ease the pressure of his magic.
There was Yvonne, our resident seer, who tended to pop up at random when least expected and the newest recruit, Kyana. She'd replaced Joe, our previous tech guy, who got swallowed by the Earth, literally. And finally, Baptiste, AKA beefcake. AKA the wolfman, who acted as muscle. He was also the dude who currently played a key role in my masturbation fantasies.
Life was good, and as an added bonus, I got to rid the world of monsters.
"Ba-bye." I reached for the bogeyman, who snarled, a lip pulled over prominent teeth, eyes sunken in a pallid face.
As I put my hand on the bogey, it almost immediately faded away, unlike the first time I met one, before my powers had truly manifested. It took puberty for my ability to explode.
Before I could celebrate my victory over the bogeyman, a net dropped on me from above!
To say I was shocked would be an understatement. Especially since I tangled right away in the roped webbing. "What the fuck," I exclaimed, struggling to free myself and only making it worse.
Nelly yelled, "Duck!"
My knees buckled as I headed for the ground and tucked best as I could. The rapid pop, pop let me know she'd fired.
At what? Bogeymen couldn't be shot. Before I could peek, she yelped.
"Nelly!" I pushed at the rope and somehow found an edge, crawling free to see my SMU partner and friend fighting off flying monkey imps. Annoying buggers. They had the ability to hover and had dexterous fingers and enough intelligence to make groups of them more than just a nuisance. Roving gangs of them were dangerous, and we'd been struggling to react quickly enough to take action when they appeared. We'd not been doing well on the threat removal aspect thus far, usually arriving too late.
Not this time.
The gang of imps darted in from more than one direction. Nelly yelled as she pulled the long dagger she'd worn down her spine—"just in case," she'd told me as we left. She wielded it with grace and precision, slicing wings, taking off paws with claws.
At least she came prepared. Me, I had a baton, an electrified one but still essentially a whacking stick, as Yvonne had warned against letting me have weapons meant to draw blood.
Our resident seer did not explain what she meant, and I didn't argue when I got demoted to baby status when it came to equipment. I didn't like weapons, although I will admit to a certain satisfaction in hitting things. Thump. Whack.
I swung my baton more wildly than with forethought, I was ashamed to realize. But I at least hit some stuff. I paused and a small but wiry body landed on my back and dug in. It was the size of a large cat but with wings and sharp teeth.
"Ow." I reached for the imp, my power against magic useless against it since an imp used none. Annoying creatures.
Why were they attacking? What did they think they'd accomplish? We'd killed so many of them already.
I flung and thrashed, bucking against the teeth that tried to bite, shaking free before claws could hook in and hold on. For the one on my back, I retreated until my back slammed into the alley wall.
The imp squealed and let go. I whirled and whacked it with my baton. Fucker stopped moving.
I huffed and tried to put my back to the wall and readied my rod. "Let's go, fuckers." The imps hovered in front of me, flashing angry teeth and eyes, but they didn't attack. It took Nelly yelling, "They're stalling for something," for me to realize that steady thump I heard, the tremor underfoot?
"Fuck me, I think we're about to meet the troll we've been getting reports about." A troll that had been stopping cars on a road going into town and demanding toll.
Boom.
You'd think a being ten feet tall would have been easy to find.
Boom.
You'd be wrong.
The imps suddenly fled, rising straight up.
Boom.
"Is it me, or does that sound close?" I asked.
"Grab the rope," Nelly demanded, as if I ever packed equipment.
"I don't have rope."
"The net then, the one they tossed on you."
I'd forgotten about it but had no idea how she thought it would work, given trolls were massive.
Boom.
I dragged the mess of rope over, and Nelly wasted no time slicing it in a few spots. She handed me a knotted piece. "We're going to trip it. Whatever you do, don't let go."
"I'll try." Our best chance at taking out a troll was getting it to fall since they were wickedly tall with very tough exterior skin. Only vulnerable spot? Under the chin, in that small crease between neck and jaw. Eyes could be blinded, but that left their strong sense of smell. Which was ironic given their stench. The only good thing? Trolls lacked speed.
Boom.
Nelly began running with her end of the rope, and I followed, but only to the mouth of the alley. I stood and braced as the netting stretched across the road. Nelly planted herself and began pulling in the slack. I moved just as fast to tighten the rope. We quickly looped it behind our backs to brace.
Just in time.
The troll approached with ponderous feet and swinging, pendulous breasts.
A female troll? Fuck. That meant even once we took her out there'd still be a male to handle, as our reports on the one demanding money from people very clearly reported a massive, swinging dick.
The monster saw Nelly first and roared, beating her chest and letting loose a hot gush of piss that oozed ammonia strong enough to water the eyes. A clear signal to her mate.
Fuck, if she waited for help, our plan would fail.
Nelly must have realized that since she screamed, "Over here, you ugly twat."
The troll stomped for us—boom, boom—each step a rumble to the ground. We braced as the troll's foot swept forward and caught on the netting, jerking it. It forced me to dig in hard to hold. The troll unbalanced, flailed her arms, and started to fall.
The tremor underfoot when she hit almost knocked me off my feet. Nelly raced for her, going for the kill shot. Missed, as the female rolled, protecting the soft underside of her chin.
Boom
Why did I hear more footsteps?
Boom.
A glance behind showed the missing male coming at a rapid pace, roaring in rage, an electrical pole clenched as a club.
"Oh shit," I muttered. "Kyana, you still there? We've got two, I repeat, two trolls." I waited for the male with long greasy hair and a bulbous nose to get closer before darting to the side, knowing it would take him a moment to follow.
"I've been listening and have already contacted the other team."
"How long until they arrive?" I asked, the booming vibration much too close for my liking.
"Five minutes tops."
"Five?" I huffed. I was so fucked.
"Maybe less depending on the lights and traffic."
A badly limping Nelly, who'd aggravated her wound, dodged the fist of the very angry female troll. Me? I had my own problem.
I veered again and lost sight of my friend.
"Wow, they really move. Two minutes out." Kyana sounded impressed. I knew when I wasn't in the vehicle Clive could do stuff for travel to move fast.
Two minutes. My legs wouldn't last that long. A lamp post came flying past.
Fuck me. I glanced behind me to the troll plucking another to use as a spear.
I could use Clive and his magic right about now.
"An accident just in front has them stuck literally thirty seconds away!" Kyana exclaimed.
And they obviously weren't wearing their earpieces, or they'd be yacking, given they were in close range.
Thirty seconds by car was nothing for a certain guy I knew.
A distant roar brought a smirk to my lips. Reinforcements were coming.
Someone screamed as the troll stomped past them.
Why they brought attention to themselves I couldn't have said. Like literally, he would have ignored them.
But, no, the person freaked out, the troll started to bend, and I did a very foolish thing.
I stopped running and whirled around, fingers in my mouth to make a firm whistle.
TWEET!
The troll halted in its reach for the screaming idiot, who had yet to run.
"Hey, you ugly fucker. Come and pick on someone more your size." Childish and weird, but I drew its attention long enough for Nelly to race for the backs of his legs, aiming to slice the tendon that held things together.
The stroke barely scratched the skin. She needed a magical sword, and unfortunately, I broke them often just by being near.
Boom. A glance showed the female had found us. A surprise. "How come you didn't kill her?" I exclaimed.
Nelly sighed. "She's preggers. I was trying to be nice."
Commendable if it were anything but a killer troll. "I'll handle her. You take out her male companion."
Meanwhile I could only hope Baptiste and Clive would arrive soon with a plan to handle the threat. Mine consisted of avoiding getting smushed because I had no idea what else I could do.
Mimicking the idiot on the sidewalk, I screamed and drew the female away. Turning down a wide street, I gave myself room to move.
My foot hitting the solid yellow line in the middle of the road coincided with Kyana muttering, "So slightly bad news. Your backup has been in an accident. Everyone is okay."
"Good for them." I exhaled through gritted teeth. "But I kind of need help now."
"Don't worry. Our newest team member says he'll be there shortly."
Shortly meant Nelly and I remained on our own. Fuck me.
I stopped and eyed the troll and her swinging tits. I had to keep her away from civilians because casualties caused attention. Attention led to firings, which usually meant me. And before you got pissy about me being selfish, I would like to add that any idiot outside with a camera trying to film a troll attack deserved whatever happened to them.
I waved. "Hey you, thanks for loaning me your lover last night." Pure nonsense and yet it seemed the troll understood and even believed. As if that would physically work. She rushed me, and I ran in the opposite direction.
Legs pumping, arms tucked. Head up.
Boom. Boom. The vibration of her chase kept her going for now, but I'd never last at this rate.
Which was when I thought of the sinkhole. Actually, seeing the crime-scene warning tape reminded me. It fluttered about a hundred yards from the edge. I ignored the tape and busted through. The troll followed.
The next part of my hastily derived plan would be trickier. I had to rely on my speed and maneuverability as I raced straight for the edge of the hole. I slowed as I neared, faking fatigue by staggering, even partially leaning over as if gasping for air.
Boom. Boom.
She got faster. Closer. Close enough that a glance over my shoulder showed those meaty fists swinging almost within range. I darted sideways, drawing her gaze.
Her head turned to watch me. Her body didn't swivel as quick. Her momentum kept her going forward. Right off the edge into the abyss. She fell with a bellow that ended abruptly.
I'd done it. I'd slain a troll.
I might have celebrated more if I'd not turned from the hole to see the biggest freaking troll ever, his face grizzled with gray fuzz, and wrinkled. He pounded his chest and roared.
Seriously? How many fucking trolls were there running around in Nexus? Once more, I bolted rather than get crushed. I was faster than an old troll.
Wrong. He had a long-legged lope that quickly caught up to me, and his fingers gripped me firmly, pinning my left arm to my body, and yet not crushing.
Because he planned to kill me a different way.
He stopped running and lifted me, bringing me to his mouth, full of sharpened pointy teeth.
He's going to eat me!
This would hurt. Holy fuck would it hurt.
Before I could scream, a bird dropped from the sky and, with a long talon, slashed at the troll's eye!
COLLAPSE